GIW / ISCB-Asia 2014
December 15 – 17, 2014
Odaiba, Tokyo, Japan.
Publications
BMC Systems Biology  http://www.biomedcentral.com/bmcsystbiol/supplements/8/S5
BMC Genomics http://www.biomedcentral.com/bmcgenomics/supplements/15/S10


Photo Gallery
Programs
Program UPDATED  Click here! (on Dec 14)
Instructions for Oral Presentations here
Instructions for Poster Presenters here
List of accepted posters here
List of accepted papers here
List of accepted highlight here
Conference Venue
Plaza Heisei   > Access Updated! (on Sep 29)
Illustrated Venue and vicinity

Tokyo International Exchange Center
2-2-1 Aomi, Koto-ku, Tokyo 135-8630, Japan.
Flyer Download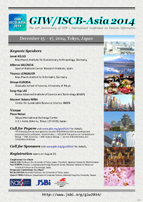 GIW/ISCB-Asia A2poster (PDF 220KB)